INVESTORS IN PEOPLE
We are delighted to announce that we have retained our Investors in People accreditation. We have undergone a company restructure recently to ensure that we have the procedures in place to encourage and develop the skills of the staff and we are proud to have this recognised by Investors in People


GRADUATES
Congratulations to our new Graduate Surveyors, Elliot and George, on their results yesterday. Both achieving their B.Sc . (Hons) in Quantity Surveying from Liverpool John Moores University.


NEW ASSOCIATE DIRECTOR ANNOUNCEMENT
Announcement of Associate Directors
As part of the restructure of our team for future growth, we are pleased to announce the promotion of two of our Senior Surveyors to Associate Directors, Elaine Carr and Kevin Taylor.
Elaine and Kevin's promotion to Associate Director is recognition of their value to the practice and demonstrates that Markhams are looking to the future to establish a strong team to maintain our reputation as a firm that is committed to providing a first class service.
Elaine
Elaine joined the practice in 1998 as a Trainee Surveyor and has progressed through the ranks to Senior Quantity Surveyor, whilst gaining a Degree with Honours along the way.
Elaine has become the surveyor of choice for many of our clients and a confident Employers Agent, with a wide range of experience of working on new build, refurbishments, re-modelling, conversion and listed schemes within various industry sectors. Her experience and approach will help the practice continue to deliver successful schemes, whilst training a new generation of surveyors.
Kevin
​
Kevin joined Markhams in January 2011 as a Surveyor and has rapidly progressed through to Senior Surveyor and now Associate Director at the company.
Kevin has worked on schemes providing the full range of services which Markhams provide as Quantity Surveyor, Employer's Agent, Contract Administrator, Monitoring Surveyor/Purchaser's Surveyor, including being an integral part in developing the briefs of some of the first multi tenure schemes for Housing Associations as the dynamics of Social Housing change.


NEW DIRECTOR ANNOUNCEMENT
We are very pleased to announce that Anthony Conroy BSc (Hons) MRICS is to become a Director of Markhams from 6th April 2018.
Most of our clients and colleagues will know Anthony as he has been with Markhams from the age of 17. He commenced work with us as a trainee surveyor, developed his skills and undertook and attained his First-Class Degree with Honours. He then went on to become a fully qualified Chartered Surveyor.
As we enter a new era for the practice, we very much see Anthony as a key part of the development and long term future direction of the practice.
Please join us as we welcome Anthony as a Director and,if you have not already done so, hopefully you will have the opportunity to meet him in due course.
Markhams


graduate quantity surveyor position
Job Summary
Providing assistance in general project matters and management of costs to ensure the success of a project. The candidate will be assisting senior members of staff providing a Quantity Surveying/Employer's Agent service to our Client's under various forms of Construction Contracts.
Reporting to a senior member of staff, the person should be enthusiastic and able to assist in administering our Design and Build schemes effectively. The candidate will be working alongside experienced construction professionals who will support their development and gain experience working on live construction projects.
We are looking for a candidate who is keen, willing to learn quickly and become a member of a professional experienced team of qualified surveyors who deliver a high-quality service.
Responsibilities and Duties
Provide assistance for project Quantity Surveying Services and Employer's Agent or Monitoring Surveyor services.
Assist in preparing Construction Cost estimates and cost plans, including optional appraisals
Assist in the preparation of project cash flow forecasts
Regular communication with Clients and other project team member
Assist in performing risk assessments, value management and cost control.
Preparing and issuing tender documents under the supervision of a senior surveyor
Assist in analysing tenders received and drafting reports
Drawing up contracts for signing under the supervision of a senior surveyor
Assist in carrying out contract administration services
Involvement in contract matters, with the assistance of a Senior QS or Director, such as EOT, Loss and Expense, Insolvency etc.
Undertaking site visits to attend meetings with a senior member of staff
Assist in processing and producing monthly valuations following Contractor Applications for Payment
Assist in negotiating Variation costs with Contractors
Attending handovers of properties (residential developments) and ensuring that delivery is in accordance with Client requirements
Work towards a professional approach in all day to day activities
Other Project Management and Contract Administration duties as designated by a senior member of staff
Qualifications and Skills
Degree (BSc. Hons) in Quantity Surveying or working towards (minimum final year student).
Applicant must be willing to enrol with the RICS APC process with the aim of becoming Chartered as soon as possible.
Benefits
Competitive salary, mileage allowance.
Job Type: Full-time
Salary: £20,000 to £22,000 /year
Requirements
Candidate should have a Full UK Driving Licence
Interested Candidates please contact:
Anthony.Conroy@markhams.org.uk
Tel: 0151 708 6900
Markhams Ltd
4 Merchants Place
Century Building
Tower Street
Liverpool
L3 4BJ
RETIREMENT ANNOUNCEMENT
The Directors of Markhams wish to announce the forthcoming retirement of Alan Dennis from the practice, with his last working day being Thursday 29th March 2018.
After 42 years working for Markhams, Alan has decided to lay down his calculator and pick up his golf clubs and spend lots of quality time with his wife Shirley and family.
Alan leaving sees the end of an era for us and we are in Alan's debt, not only for the countless projects he has delivered and the daily running of our practice, but also the ethos and approach which he helped shape and enshrine into the Markhams we are proud to be part of today.
We thank Alan for his hard work and commitment in helping to propel us to our present respected position in the North West construction industry.
We all extend our best wishes to Alan as he embarks on his very well deserved retirement.
Markhams
MARKHAMS RETAIN ISO 9001 Accreditation
We are pleased to announce that Markhams have retained their ISO9001 accreditation for another year, Certificate Ref GB2005139, following a successful external audit.
EMPLOYER'S AGENT WANTED
We provide high quality employer's agent, principal designer and quantity surveying services to a well established client base within the housing sector. Our work predominantly covers rented/sale/shared ownership housing, with a growing number of private rented schemes as well as extra care and other specialist housing projects.
The ideal person for this position will be MRICS qualified and originally trained as either a quantity surveyor or building surveyor, along with good experience of working on new build public sector residential projects. You will be capable of delivering a professional personal service to our clients and also being a representative of Markhams.

This is a rare opportunity to join a well-established practice in Liverpool who is small enough to ensure your part and your influence in our business will be noticed and recognised, and large enough to provide support and help in achieving what you want to achieve.
If you are interested, please send you CV to enquiries@markhams.org.uk.
Markhams is committed to equality and strives to be fair in its dealings with all people, communities and organisations and take into account the diverse nature of their culture and background.
new surveyor
We welcome Colin Barry who has recently joined the practice, and also congratulate him on successfully passing his APC and becoming a Chartered Quantity Surveyor.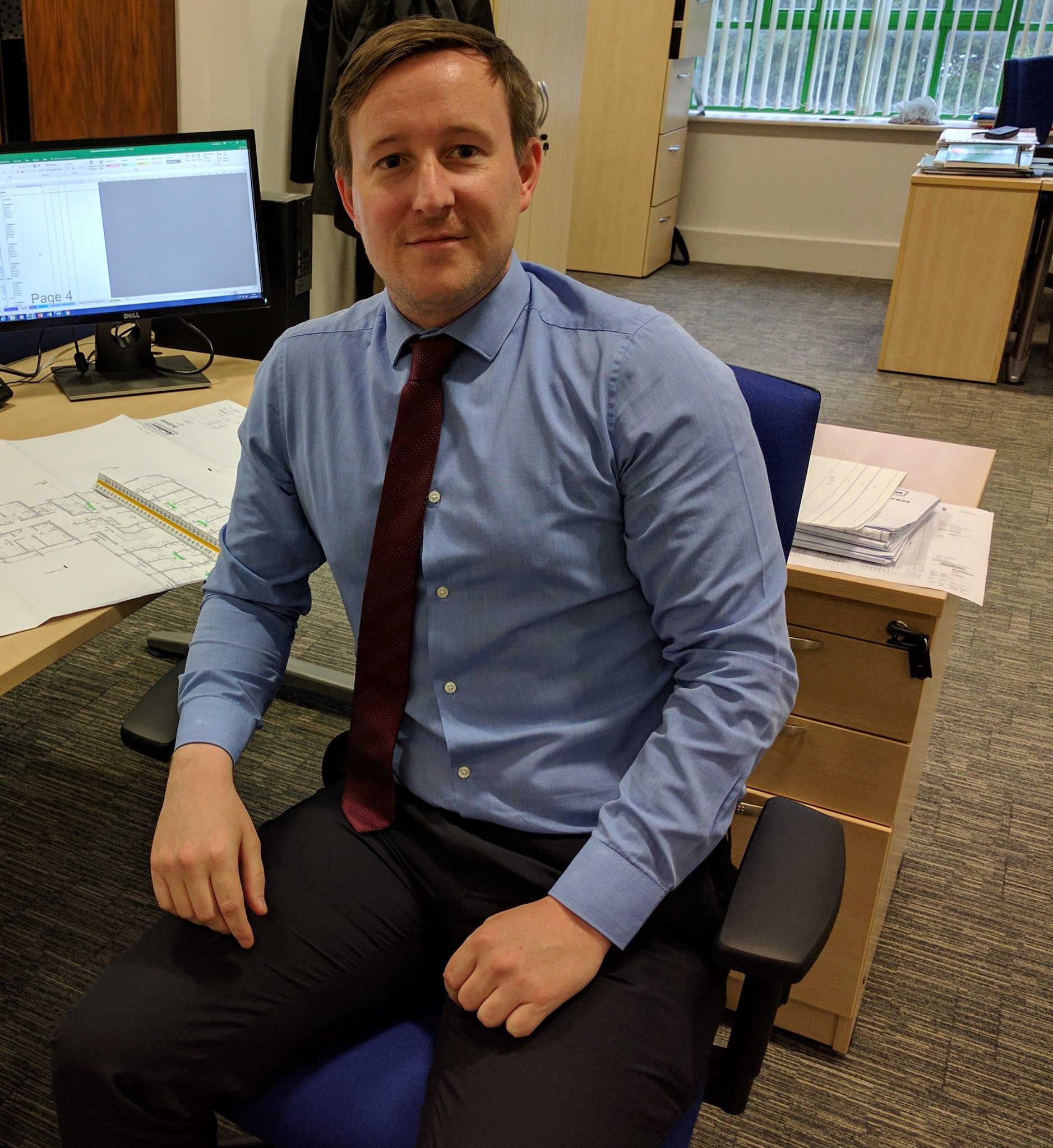 Markhams obtain iso 9001 certification
Markhams have successfully obtained ISO 9001 independent certification, for its quality assurance systems, ensuring our clients continue to get the highest quality of service. Certificate Ref GB2005139.




Markhams new apprentice quantity surveyor
In July, we welcomed Cameron Arrowsmith to the team as an Apprentice Quantity Surveyor. Recently, the Social Media Manager from Cameron's Sixth Form at South Wirral High School, visited Markhams to interview Cameron for a 2016 Student Destination's article to feature on their website and Social Media pages. Click the following link to read the article.
http://southwirral.wirral.sch.uk/news/student-destinations-cameron/




framework success
We have been successful in securing appointment onto the Cutting Edge Framework to provide Employer's Agent and Principal Designer services. As one of only five consultants selected, we went through a rigorous quality and price selection process under OJEU rules to secure our place.
southport lifeboat station
We have been appointed to act as Employer's Agents and Principal Designers for the proposed new Southport Lifeboat Station. We are working with the Southport Lifeboat Trust and DK Architects to deliver a new modern station, which will see the Lifeboat service operate from improved facilities and provide an attractive addition to the sea front at Southport.
---
CHAS
We are now CHAS accredited Designers and Principal Designers.